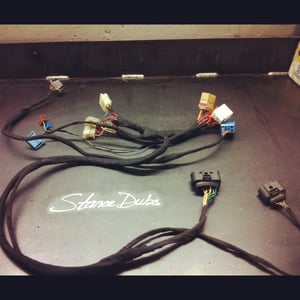 $

399.00
Simplify your swap with our plug-and-play harnesses.
If you're swapping a 99.5-05 VW mk4 2.0, 1.8t, 12v VR6, 24v VR6 , Mk4 R32, VR5, TT180, TT225, Mk1 TT3.2 or 01+ 1.9 ALH into a older chassis, this adapter harness is for you!
Our harness plugs in between your Mk4 harness and a Mk2-Mk3 (ce2) chassis. With over 10 years and 100,000 km of testing, our adapter harnesses can make your swap run like OEM. No need to cut up your Mk4 harness.
NOTE: You still need the two wiring harness's that plug into the mk4 ecu, Mk4 ECU with Immobilizer disabled and electric gas pedal.
For all those that will use the Mk2/early Corrado instrument cluster, you will need a digital-to-analog converter for the RPM to work.

All VR6 swaps will need a "swap file" ECU reflash to prevent early rev limiter.
When purchasing this item please make sure to write the year and model of your engine and model of car in the PayPal check out.
If you have any questions, email us at: info@stancedubs.com.
Prices are in US funds