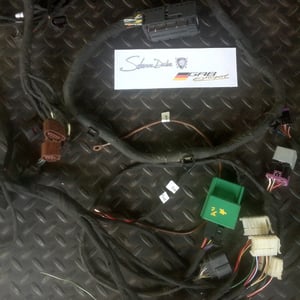 $

995.00
These harnesses are specifically tailor-made for the 2.0t Fsi/Tsi, 3.6 VR6, Mkll TTRS, CR Tdi motors for all swaps into the following chassis: Mk2/3 (ce2) and the Mk4/TT.
They are made to run like OEM, utilizing the FSI injection.
Specification Requirements:
The FSI ECU needs to have the immo disabled as well as a swap file reflash. This is available from some tuners.
You need to use the FSI gas pedal.
Most importantly you'll need it's matching body harness because the second ECU connector is one with the harness. In order for us to customize the harnesses, the body harness (or at least all the engine bay part of it in ONE piece) will need to be sent to us. (Please see forwarding address below.)
An RPM converter will need to be used for the rpm to work, unless you have a can-bus cluster (Mk4/TT).

For more information please contact StanceDubs via email at info@stancedubs.com.
StanceDubs
280 Montée de Liesse
Saint-Laurent, Quebec
CANADA H4T 1N8
Prices are in US funds
Liability, Limited Warranty, and Returns Policy.